Helmstead Minis FF Sizzle 1*M/*D/*DD
January 31, 2012
red
Grand Champion Doe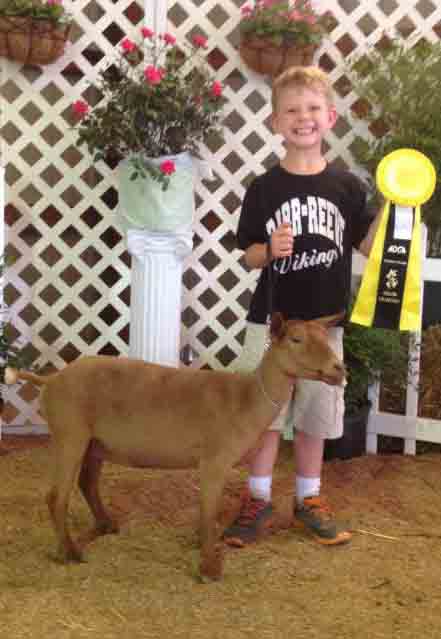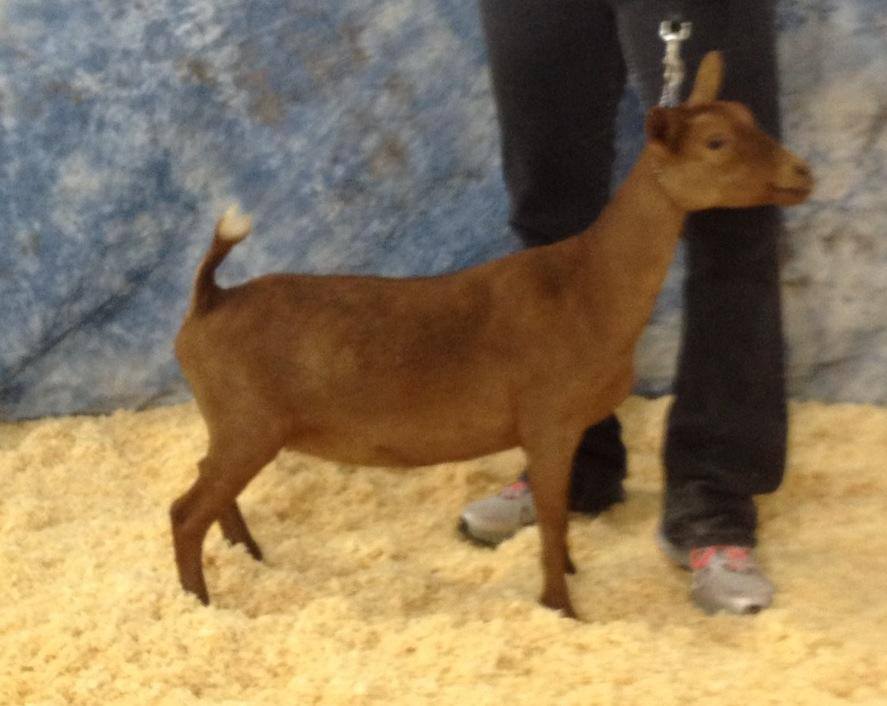 Sizzle as a yearling winning her Jr. Leg with Ike Helms (left).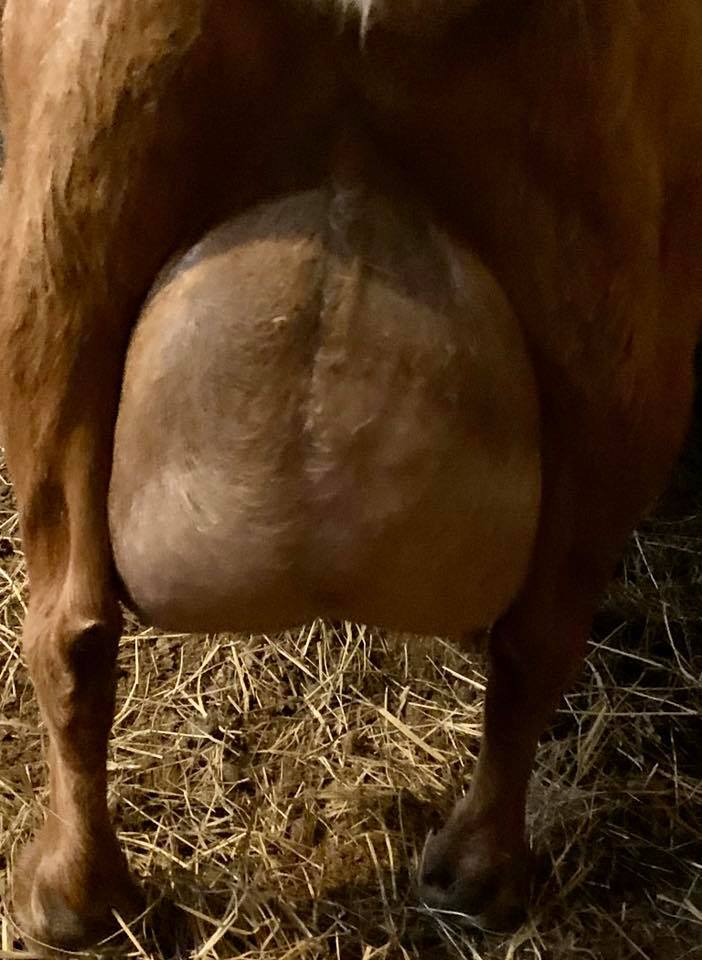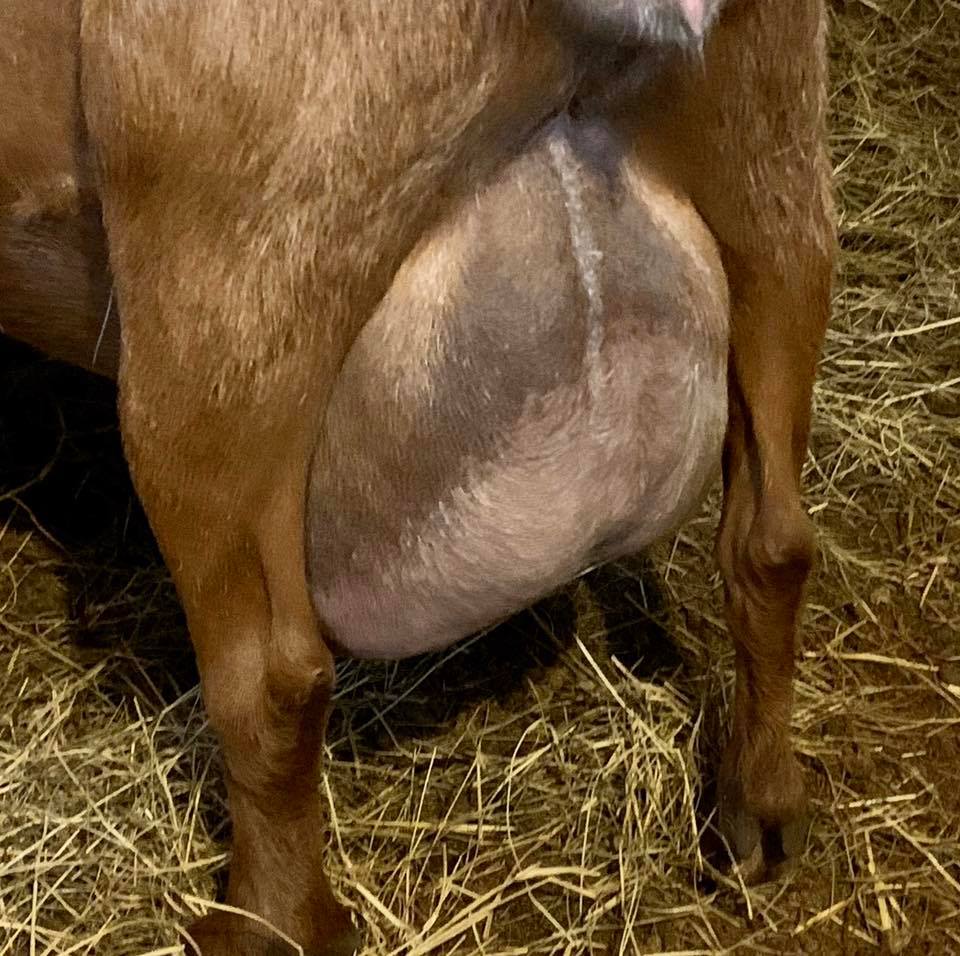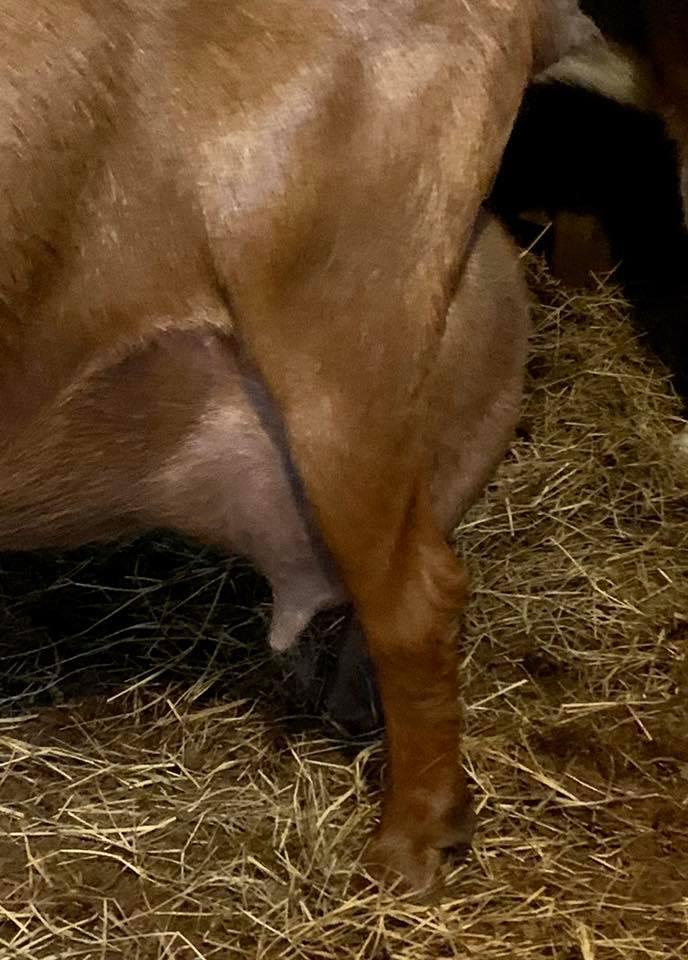 Sizzle's udder in 2020 as an 8 year old 6th freshener.
Sizzle's 5th fresh udder NOT filled at all, nursing triplets.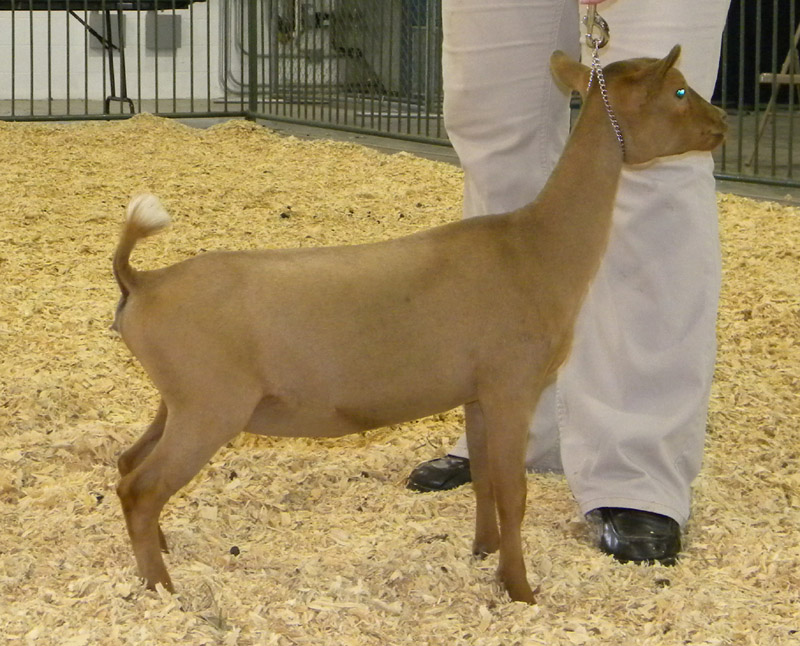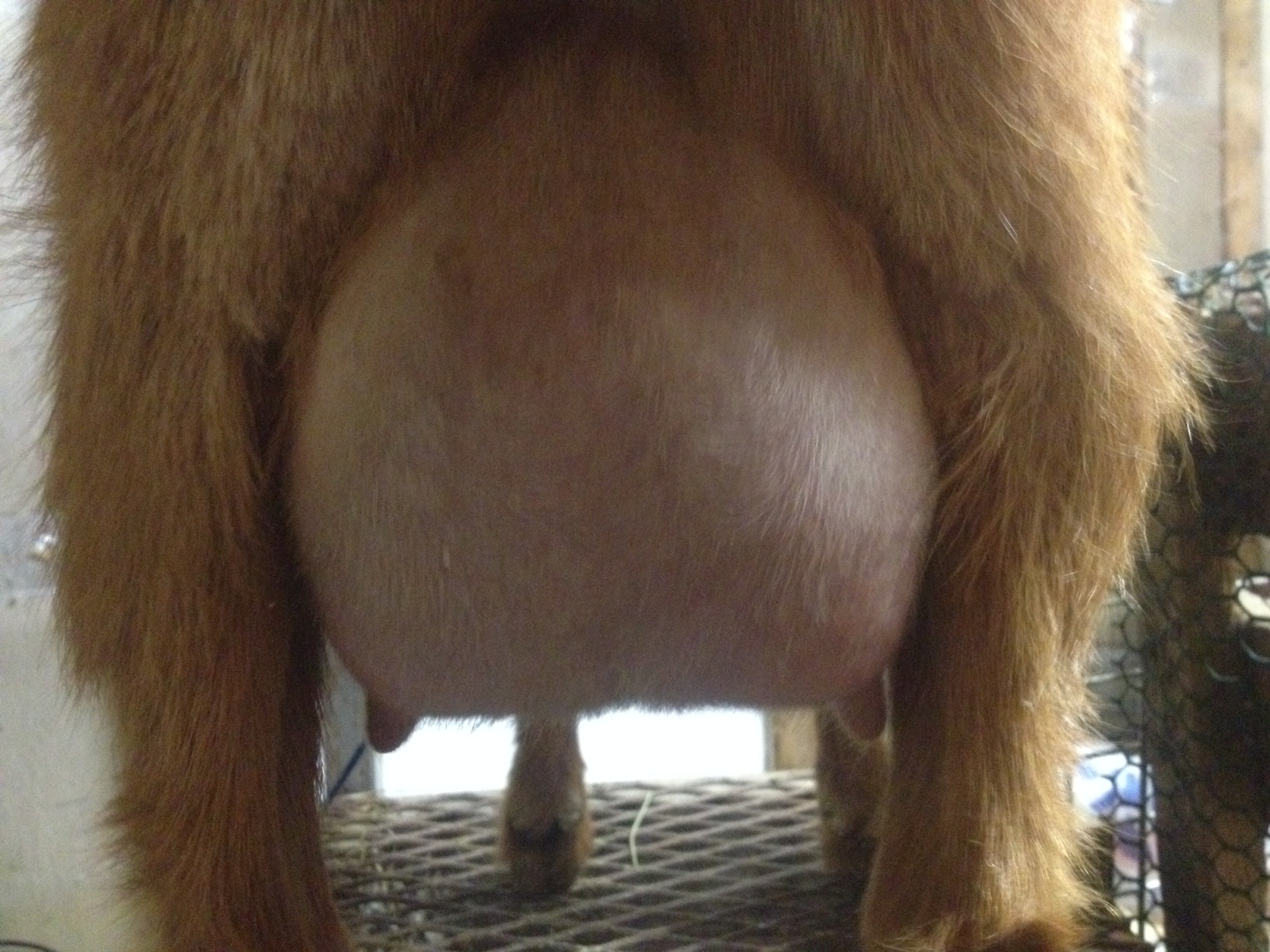 (left) Siz at 6 months of age. (right) First freshening udder.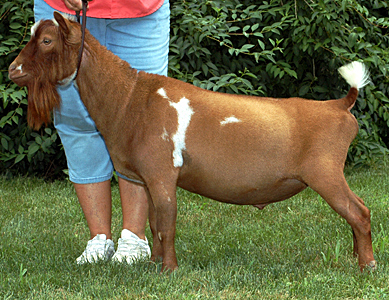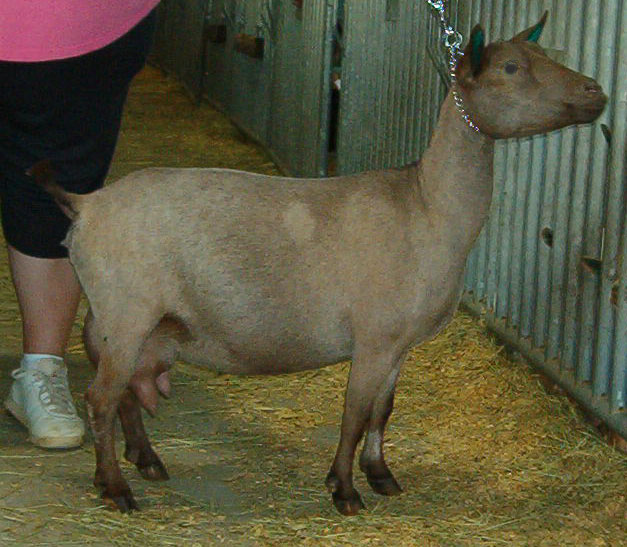 Sire & Dam
Helmstead Minis FF Sizzle
+B MCH/GCH/PGCH Kids Corral LL Fire Flame +S/+DS VG
ARMCH Twin Creeks WB Fire Storm +*S E
Rosasharn Tom's Legacy Lily VG
Echo Point Aspen (GCH doe)
Promisedland CP Zippo
Echo Point Willow
We simply had to retain this doe.
Sizzle puts it all together. She shows the dairy wedge from all angles, stands on extremely correct feet and legs with one of the widest escutcheons and hock sets in our herd. She is smoothly blended and naturally upstanding and her body proportions are very correct for a miniature animal.
Sizzle's udder is just what we were hoping for! It fits snugly into that high, wide escutcheon and had good capacity for a first freshener.
Sizzle's 2nd freshening udder is WOW - if only she'd stop letting someone nurse her! Hopefully we can get that bad habit broken and get a good test on her this time.
Sizzle's personality is also wonderful. While she can be a little stubborn in the show ring, she is exceptionally sweet and patient. She (finally) earned her restricted leg under the inexperienced hands of our 6 year old son. Ike has only shown a goat a handful of times and was thrilled to get that big ribbon!
Sizzle's Kidding History

Date

Does/Bucks

Sire

Names

Photos

January 26, 2014
1/1
*B Helmstead Minis FF Pompiere *S/*DS
HM PR Fire N Ice & *B Lumiere *S/*DS
September 19, 2014
1/1
*B Helmstead Minis FF Pompiere *S/*DS
HM PR Goldie & *B Sparky *S/*DS
May 8, 2015
2/1
Helmstead Minis F Hannah's Opus
HM PopNSizzle, Hot Hart'd & Fire Tower
February 7, 2016
1/2
Dragonfly HLJ Remington *S
HM REM Blitz, Touchdown & Gridiron *S
March 15, 2019
2/1
*B Buttin'Heads Auspiciatin Geishi
HM AG Red Hot, Shezonfire & Golden Flame
April 23, 2020
2/2
*B Helmstead Minis EX Caliber *S
HM EC Sizzler, Firestone, Ash Ley & Firefly
Show Results
AGS
ADGA
NDGA
1 x GCH

4 x RCH

5 x 1st

2 x 2nd
DHI History
Age
DIM
Milk Lbs.
BF Lbs.
% BF
Pro. Lbs.
% Pro.
Height
Notes
3.06
87
3.4
7.0
5.3
19 3/4"
ODT
Bucks Does Kidding Schedule Kids